ICT&E /

Learning Circles…
Learning Circles 2018
Learn with the world, not just about it!
GTP Learning Circles February – May 2018
The methodology of the Learning Circles is a proven concept since 1998.
Every year, thousands of students and teachers from more than 40 countries learn together in lively virtual global classrooms.
In Learning Circles students collaborate to create a deeper understanding of various topics, issues and themes that matter in the world. By sharing experiences and knowledge in a wiki and by using the internet, email and several social media students connect with peers around the world. They develop more insight into each others' lives.
All participants are working on the same assignments, but are challenged to wonder, question, choose and share in their own way. By offering enough choices in various assignments, students grow into global citizens with an opinion and a clear voice.
By increasing ownership students learn how to create and share their own meaningful contributions, to make a difference in the world.
The 2018 Learning Circles in 4 themes:
From February 12 until the end of May
Children's Rights:
Starts with an introduction phase of 3 weeks to get to know each other. Followed by three phases of 4 weeks with various assignments that are largely designed by students for students!
 –> Take a look at the Learning Circle Wiki's of 2017
ME becomes WE – Learn 2 change:
After 3 weeks of introduction, students will explore their characteristics and talents and explore ways to 'join forces' and 'be of significance to others'. In this Circle students will plan social activities and carry them out. They are asked to inspire other participants with their questions and suggestions.
Different global responses will give an interesting 'new look' on opportunities in life.
–> Take a look at one of the ME/WE Circles
Saving Our Planet:
After 3 weeks of introduction, students will research 2 Sustainable Development Goals which are aimed to protect our planet: Affordable and Clean Energy & Climate Action. In this Learning Circle students are sharing research, opinions and experiences. The assignments are invitations to learn and work together, to make the world a better place.
–> Take a look at on of the SOP Circles

English literature & poetry:
After 3 weeks of introduction, we will present highlights from English books and poetry, with corresponding assignments. Students not only experience the fun of written and filmed English language, but also have the chance to share their favorite English books, quotes and clips from movies.
Age:
All Circles are open for students aged 10-18 years old, with a reasonable understanding of the English language.
See also: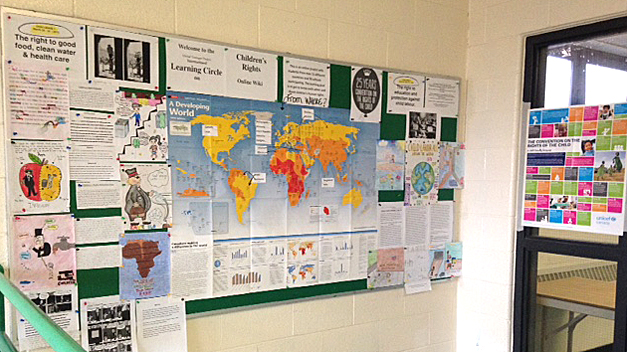 Teachers and students of grade 7, Kennedy PS in Toronto in Canada announced Circle participation in their school.
Formative Assessment & Future Skills
Students and teachers are excited about learning goals and learning outcomes. In recent years they have experienced it as a unique learning experience: by sharing creative contributions students are not only able to connect and learn globally with peers, but are intensively learning and practicing various future skills meanwhile.
To create ownership of learning, students will set their own learning intensions and success criteria. Students will use peerScholar as tool for peer reflection (in the last phase in May) to reflect on their own and their peers' learning process.
Working in a Learning Circle includes student engagement, professional collaborative learning, global citizenship and 21st century /future skills.
Read more about it: 
Methodology & Goals of the Learning Circles
Future skills & Learning Circles
Costs
The costs for joining a Learning Circle for Dutch schools are € 395,- for each group; the registration fee for Canadian classes is $ 225,- + HST.  The fee for classes from other countries varies according to local situation. Please contact your Country Coordinator or Learning Circle coördinator Manon van Herwijnen (manonvh22@gmail.com).
With your contributions we are able to support participation of schools from many countries in the Circles.
Information / contact:
Project coordinator Global Teenager Project: bob@globalteenager.nl
Coordinator Learning Circles: manon@globalteenager.nl

offered by the Global Teenager Project, iEARN and ICT&E.
Nederlands:
Learning Circles Kinderrechten 2018
Na vele enthousiaste reacties vanaf de start in 2012 worden van februari t/m mei 2018 opnieuw Learning Circles Kinderrechten aangeboden. In het Nederlands werken groepen uit het regulier en speciaal Basisonderwijs én Voortgezet Onderwijs samen. Na een kennismaking met leeftijdgenoten van de andere scholen wordt in uitdagende opdrachten aandacht besteed aan diverse kinderrechten.  Dit jaar worden de uitdagingen voor een groot deel vooraf ontworpen door leerlingen van Montessori scholen. In de opdrachten en vraagstukken worden leerlingen uitgenodigd zich te verwonderen en kennis en bewustzijn te vergroten over levensomstandigheden van kinderen wereldwijd.
NIEUW —> Voor de Engelse Circles van 2018 is keuze uit 4 thema's mogelijk.
Zie de beschrijving bovenaan deze pagina.
Handig:
Naar de 12 Learning Circle Wiki's van 2017
Een mooie compilatie –> Learning Circles selectie.
Ervaringen van deelnemers –> Testimonials van Nederlandse scholen
Artikel COS: Learning Circles, online werken aan een betere toekomst! – Harry Dubois
Artikel Lecso: 'Een venster naar de andere kant van de aarde' – interview met Thierry Koningstein.
Samenwerken
Een Learning Circle is een tijdelijke 'wereldwijde klas' waarin leerlingen en leerkrachten van alle onderwijssoorten in binnen en buitenland samen werken en samen leren. Met behulp van wiki's, internet, e-mail en social media, communiceren leerlingen met elkaar over betekenisvolle vraagstukken die actueel zijn in de wereld.

Learning with the world, not just about it
In een Learning Circle leren kinderen op basis van wederkerigheid. Door ervaringen en kennis uit te wisselen, ontwikkelen ze inzicht in elkaars leefomgeving. Werken in een Learning Circle betekent voor een school bezig zijn met vakinhoud, coöperatieve leervormen, wereldburgerschap en 21st century skills tegelijk. Dat maakt elke Learning Circle een unieke leerervaring voor leerling en leerkracht.
In deze Learning Circles worden kinderen uitgedaagd tot verwonderen, vragen, onderzoeken en delen. Met hun verhalen en bijdragen verbinden leerlingen uit binnen- en buitenland zich met elkaar. Samenwerkend leren maakt ze bewust van verschillende levensechte vraagstukken. Samen thema's uitwerken die spelen in de wereld, samen ervaringen delen geeft hen een hierin een stem.
Ter aanvulling:
De kosten voor deelname aan een Learning Circle bedragen voor Nederlandse scholen € 395,- per deelnemende groep. Ook scholen uit Canada, Zuid-Afrika en enkele andere landen doen een passende bijdrage. Hiermee wordt de organisatie, het opzetten van de Circles én het begeleiden van alle scholen in de bekostigd. Met de opbrengst ondersteunen we ook scholen in landen die ontoereikende financiën voor deelname hebben.
Inschrijven / Registration  for 2018
–> opens September 20 – 2017.

(form follows)
Iedere deelnemende klas dient zich afzonderlijk in te schrijven.
Each participating group/class must fill in a separate form.
Overeenkomst / Agreement
(follows)