ICT&E /

Global Teenager…
Global Teenager Project – Learning Circles 2018
Learn with the world, not just about it!
GTP Learning Circles  – February 12  to  June 3 –   2018
Registration is closed for the 2018 Circles.
Links to:
Montessori Learning Circles Children's Rights
Nederlands: informatie over de Learning Circles Kinderrechten
Learning Circle 'Children's Rights'
Learning Circle 'Saving Our Planet'
Learning Circle 'English literature & poetry'
Schools from all over the world are welcome to join!
The methodology of the Learning Circles is a proven concept since 1998.
Every year, thousands of students and teachers from more than 40 countries learn together in lively virtual global classrooms.
In Learning Circles students collaborate to create a deeper understanding of various topics, issues and themes that matter in the world. By sharing experiences and knowledge in a wiki and by using the internet, email and several social media students connect with peers around the world. They develop more insight into each others' lives.
All participants are working on the same assignments, and are challenged to wonder, question, choose and share in their own way. Students grow into global citizens with an opinion and a clear voice.
With increasing ownership students learn how to create and share their own meaningful contributions, to make a difference in the world.
Download the 2018 Learning Circles flyer (pdf)
The 2018 Learning Circles in 4 themes:
Timeline February 12  to June 03
1. Children's Rights:
With challenging assignments and critical questions, designed by students for students. To increase awareness and get insight in each others' lives. In 2018 we also offer special Learning Circles Children's Rights for Montessori Schools and NPDL Schools.
2. ME becomes WE – Learn 2 change: Canceled (due to a preference for the other themes)
In this Circle each class plans social activities that are meaningful for someone else. Share your achievements to make a difference in the world.
3. Saving Our Planet:
Students share research about Sustainable Development Goals. Connect and learn together to make the world a better place.
4. English literature & poetry:
Students will share reflections from their own cultural context, in book reviews and by writing a short story. Exciting for English (and drama) classes.
Age:
All Circles are open for students aged 10-18 years old, with a reasonable understanding of the English language.
See also: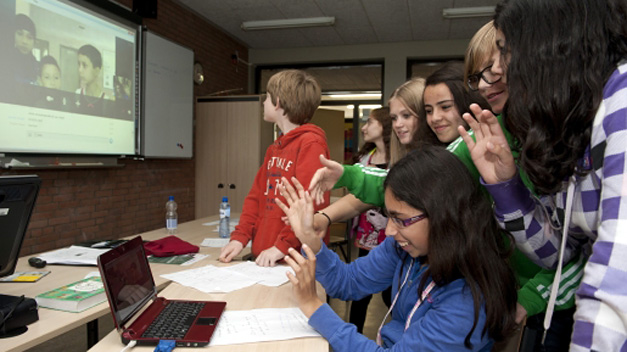 More about the 4 themes:
1. Learning Circle Children's Rights:
Every child has rights, enshrined in the UN Convention of the Rights of the Child (CRC) signed by almost all countries in the world. How is it possible for children to understand this treaty, which consists of 54 articles? Do children all over the world, also those with physical, emotional and social challenges not all have the same rights and what is the actual situation for children? These critical questions and many more, are raised in the Learning Circles. Addressed to students in a way that challenges them to look further and deepen their learning. Students ask each other questions about children's rights and are challenged to wonder, question, explore and share. They connect with students at school and abroad. In 2018 we expect participation of at least 18 different countries. Collaborative learning makes them aware of children's rights and sharing gives them a voice.
 –> Take a look at the Learning Circle Wiki's of 2017
2. Learning Circle 'ME becomes WE – Learn 2 change': Canceled (due to a preference for the other themes)
What are your dreams and hopes, your goals and expectations?  How can you do something meaningful for someone else and turn ME into WE? Things that you believe in and try to achieve can make a difference in the world.
By working together with students from different countries, you will learn from new perspectives and increase understanding of each other's conditions and habits in life.
This Learning Circle gives the opportunity to work together on various assignments and share your stories and opinions. During the circle process, your group plans social activities and carry them out. Can you be an inspiration to your classmates in this international classroom?
Imagine what can happen when you think, act and do. Can you learn 2 change?
–> Take a look at one of the 2017 ME/WE Circles
3. Learning Circle 'Saving Our Planet':
On September 25th 2015, countries adopted a set of goals to end poverty, protect the planet, and ensure prosperity for all as part of a new sustainable development agenda.
In this Learning Circle we will do research about Sustainable Development Goals which are aimed to Protect our Planet:  Affordable and Clean Energy & Climate Action.
These two SDG's go hand in hand to highlight where we stand today in regards to climate change and what we can do to stop the devastating effects on the planet.
The Clean Green revolution is in full swing. Not only to make energy more environmentally friendly but also to ensure it is affordable and accessible to all people.
–> Take a look at one of the 2017 SOP Circles
4. English literature & poetry:
Many students have already read some English literature and poems at school and probably also saw film adaptations of English books.
Students from different countries will share their reflections, looking through a different lens: in book reviews and by writing a short story they will all add their own perspectives from their cultural context.
These Learning Circles are exciting for English classes and very interesting to use in drama classes.
Participation will build a greater vocabulary and knowledge of famous literature, but most of all: It's fun to share the beauty of the English language with your global classmates!
–> Take a look at the 2018 wiki
Formative Assessment & Future Skills

Students and teachers are excited about learning goals and learning outcomes. In recent years they have experienced it as a unique learning experience: by sharing creative contributions students are not only able to connect and learn globally with peers, but are intensively learning and practising various future skills meanwhile.
To create ownership of learning, students will set their own learning intentions and success criteria. Students will use peerScholar as a tool for peer reflection (in the last phase in May) to reflect on their own and their peers' learning process.
Working in a Learning Circle includes student engagement, professional collaborative learning, global citizenship and 21st century /future skills.
Read more about it: 
Methodology & Goals of the Learning Circles
Future skills & Learning Circles
Information / contact:
Project coordinator Global Teenager Project: Bob Hofman
Coordinator Learning Circles: Manon van Herwijnen

In collaboration with iEARN.
Registration for 2018 is closed