Learning Circle ambassador Mohamed Sidibay
Mohamed Sidibay:
Global Youth Activist
Ambassador for Learning Circles Children's Rights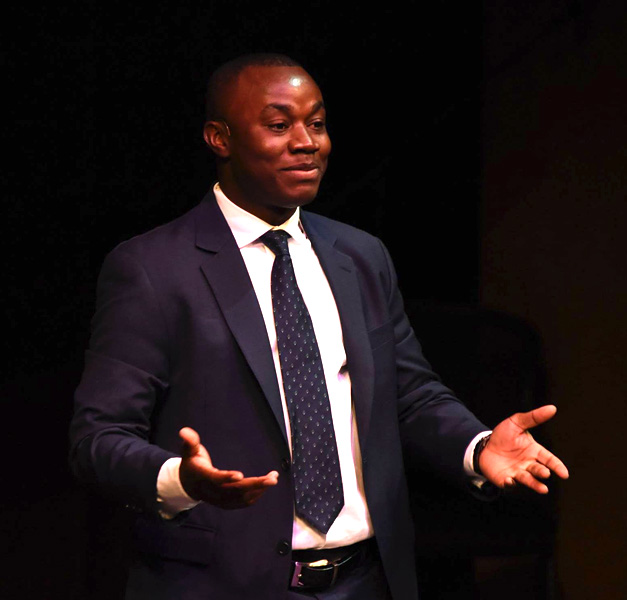 Students from all around the globe meet Mohamed Sidibay. They hear how his life was turned around after his childhood in the civil war in Sierra Leone. He challenges students to ask questions and inspire them to look for answers.  He has experienced firsthand that good education can make a difference to children around the world.
Mohamed now travels around the world as Youth Panel Commissioner at The International Education Commission of the UN to tell his story and to inspire others with his dedication.
The story of Mohamed Sidibay
"Most people have had the privilege of a great childhood. I, unfortunately, was not one of them. At age 5, I lost my family and was thrust into a civil war in my country. At age 10, I could neither read nor write and was homeless. At age 14, I became a rape victim. But at 22, I graduated university speaking 4 languages. I know what war does to the mind-but I also know the power of education. Join us as we get 100 million people to pledge and help another 100 million gain access to quality education".
Mohamed is a former child soldier from Sierra Leone. He was captured by the rebel army when he was 5 and witnessed his family being murdered. He escaped 5 years later with the help of a Catholic priest. He was placed in a UN camp for child soldiers for a while where he was given some support to deal with the trauma he experienced in the war years. He was then on the streets and alone at 10 years of age.
War has many faces and it seems to follow him everywhere he goes. In 2007, and at the age of 14, Mohamed ran away from JFK airport in New York in search of peace, education, and a life in a community that wouldn't judge him on the atrocities of his past, but rather help him to achieve his future aspirations.
Through his resourcefulness, strong will and determination he was able to connect with several NGO's and start to rebuild his life. His life followed many challenging twists and turns.
However, through his initiative, intelligence and connections to people in Canada and the United States his story moves from Sierra Leone to New Jersey where he has spent the past 10 years. He has never taken his good fortune in recent years for granted. He is committed to dedicating his life's work to others to make a difference.
Mohamed Sidibay graduated from George Washington University in 2015 and from their Elliott School of international studies. He spent most of last year teaching English in high schools in Columbia South America.
Growing up in Sierra Leone during the civil war to settling in the suburbs of New Jersey, Mohamed has witnessed the best and worst of humanity. He now dedicates his life to ensuring educational access to all children regardless of where they were born. Mohamed's experiences have taught him that knowledge is infinite, recognizing no boundaries and favoring no one race. Access and opportunity, however, are limited by where were born. It is his belief that we can attempt to give women or men the world but that world could crumble. If you give them an education however, they can and will rebuild their future.
At 24 years old, Mohamed has emerged as a leader in the human rights field.
In 2016, he became a Global Youth Leader for the 100 Million for 100 Million campaign, led by Nobel Laureate Kailash Satyarthi. He is working along side His Holiness The Dalai Lama, Prince Ali of Jordan and other world leaders to help galvanize 100 million children and people with access to resources to pledge to help another 100 million without access to quality education as part of the UN Sustainable Development Goal Number 4. Mohamed's fight for educational equality sent him to Colombia, where he taught children not just English, but empowerment and ownership of their stories. As a result of his advocacy, he was selected to serve as a Youth Commissioner on the Education Commission on Financing Global Education alongside Nobel Laureates, Malala and Kailash Satyarthi, and chaired by Former British Prime Minister, Gordon Brown, Norwegian Prime Minister Erna Solberg, President of the World Bank, Jim Kim among others. In his capacity as a Global Youth Ambassador, he helped propel the effort to secure 10 million signatures as part of the Up for School Campaign, calling on world leaders during the 70th Session of the United Nations General Assembly to deliver on their promises of quality education for all.
Mohamed's lectures on the power of education have spanned five continents. A 2015 graduate of The George Washington University Elliot School of International Affairs, Mohamed speaks 4 languages and spends most of his time traveling and speaking on the importance of education and the danger of a mind kept in captivity.
Member of the Youth Panel of the UN Education Commission
In March 2016 Mohamed Sidibay was selected as a youth representative to the International Commission on Financing Global Education. Mohamed is:
• Collaborating with 20 world leaders and Nobel Laureates in global public policy analysis to develop a public-private partnership for the purpose of negotiating resource and fund allocation in education.
• Researching to identify sources of financing education in developing countries by adapting evaluation measures on the management of funds to maximize impact and avoid mismanagement.
• Helping to enumerate the total financial requirements necessary to achieve the goal of sending 120 million children to school by 2030, a research that we presented to the Secretary-General, Head of States and business leaders at the 2016 UN General Assembly.
Mohamed has just returned to his home in New Jersey from a tour of India in December 2016, representing the UN Education Commission. He met with many local citizen groups, dignitaries and the Dali Lama (December 10th 2016).  At 24 years of age, he has already lived a lifetime!  He has much more to do. He is an experienced motivational speaker. He can speak to his life in Sierra Leone and life in the USA where he was given asylum which has provided him with a path to where he is today. His message is about the power of education and changing the world one person at a time, starting with yourself with attitude and perspective.
Provide quality education to all:
Access to education has improved in the past decade for millions of children. But far too many of the world's most disadvantaged children remain excluded from school, and many of the children in school do not learn the basic skills they need to lead productive lives. 
Education systems around the globe must do more than increase resources to engage the children excluded because of location, gender, disability, ethnic origin, violence or natural disaster. Addressing these challenges requires more than business as usual.
These are the UN priorities for their work in education: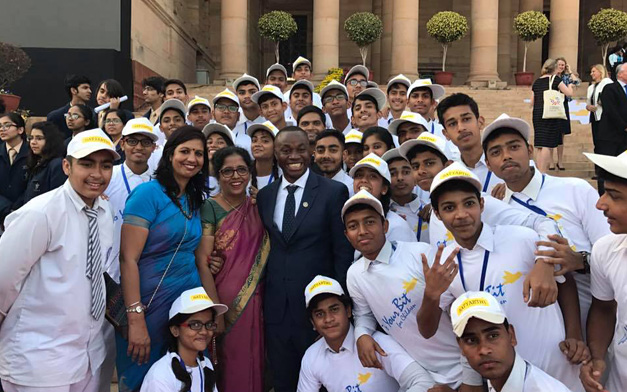 Website of the UN education commission Mohamed Sidibay has become a member of.
Website of the members of the youth panel which he serves on.
With Nobel Peace Prize winner Kailash Satyarthi: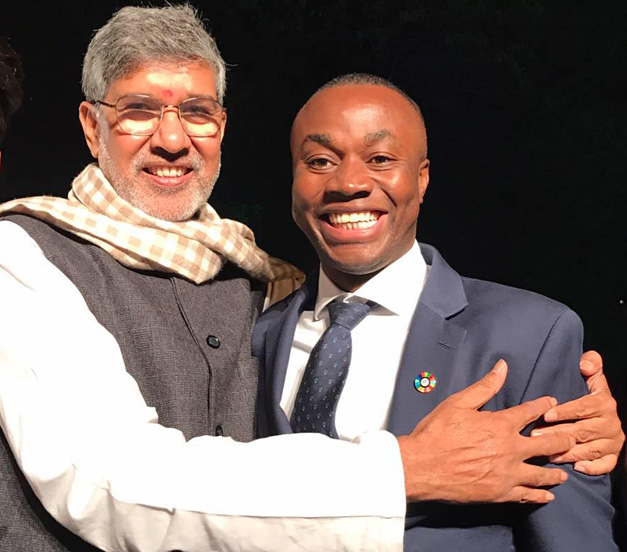 Kailash Satyarthi has been at the forefront of the global movement to end child slavery and exploitative child labor since 1980.
Mohamed says: "Kailash Satyarthi is a timeless hero, a true champion for children, and a gift to those he touches.  He has been fighting to end child labor and human trafficking around the world.  I had the honor of first meeting this wonderful man in 2015, at the United Nations General Assembly, "A World at School Town Hall", where I spoke about my experience of being a child soldier in Sierra Leone, and where he was being honored for his tireless effort to end human trafficking and child labor.
Kailash told me about his new campaign, the 100millionfor100million Project. I immediately wanted to become involved. "Our goal is to get 100 million children and people with access to resources to pledge to help another 100 million without access to quality education." How could I not be part of this project? Yes was the word that soon followed when he asked if I would like to be involved.
On a long flight to Dubai and then New Delhi 3 months later, I couldn't hold my excitement. I was going to attend the launch of Kailash's program, 100millionfor100million.  My first excitement was that I was going meet my hero, his holiness, the Dalai Lama. Three hours after my arrival, I found myself at the Presidential Palace in New Delhi for the opening ceremony of this wonderful event. This was the largest ever gathering of Nobel laureates and world leaders. And there I was, sitting and speaking to some familiar faces of activists and world leaders that I have worked with over the years. Being in a room with so much of India's history, I began to wonder if something would actually happen by the end of that event; if the anger felt by everyone in that room regarding child labor and human trafficking would not just be a viral moment of anger but something that would transform into a movement for change.
"We all sometimes find ourselves asking God to bring world peace. But if I were to encounter God or any of his messengers and ask them to bring world peace, they will not be able to help us because war is a by-product of man. And only man can bring peace. And Peace must first begin in the mind, body, and soul." Those were the words of a man who has given so much love and care to the world, his holiness the Dalai Lama.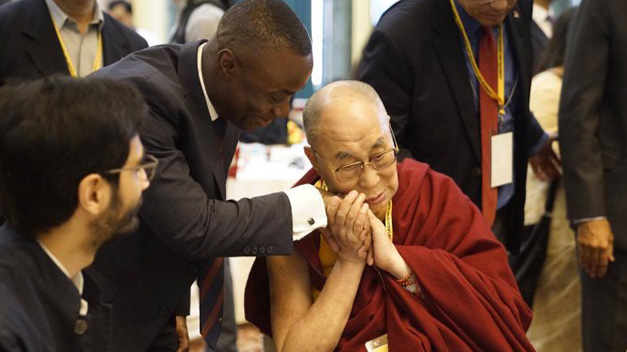 The first words that came out of my mouth when I spoke with his holiness were "you are my hero." His response was something I was unprepared for. "You my child are the hero. For despite what you went through you keep on fighting to bring hope to others." I am not someone who cries often, but I would be lying if I said tears had not filled my eyes.
Empowered by his words and as a representative of youth around the world who has been denied access and opportunity, it was my responsibility to ask those present to think about the urgency of the issue at hand- to deliver on the promises made on that day.
The collective power, courage, and strength of the people in that room were capable of effecting change… and change they must effect.
When the people that have been rescued by Kailash and his foundation began to speak about the horrors they have experienced, I again pleaded to the leaders not just to listen to their stories and respond, but to listen – to understand – to walk in their shoes, feel their pain and desperation. Then, they must ask themselves – how much urgency is needed to bring an end to the injustice and inequality faced by the marginalized children of the world?
I left that summit as a youth leader pledging to do whatever is needed of me to help Nobel laureate Kailash continue this huge movement of getting 100 million people to help another 100 million gain access to quality education".
Mohamed meets, shares, gives inspiration, he is like a flint: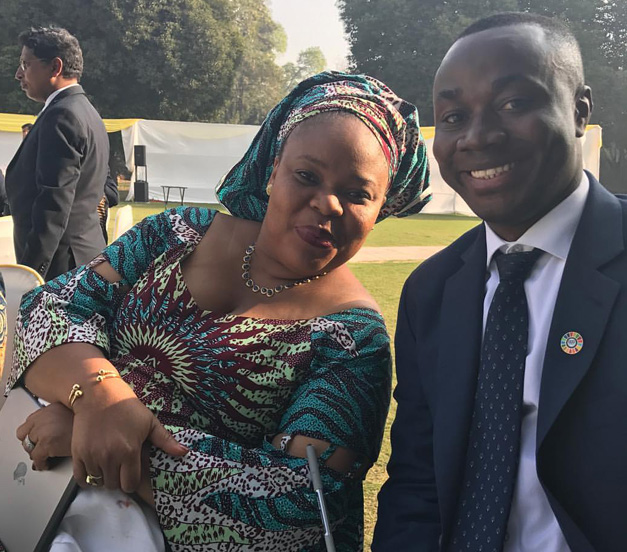 "One of the strongest and most powerful women that I have had the privilege of knowing:
Nobel peace laureate Leymah Gbowee of Liberia".
"What a champion and a bundle of joy she is. Always glad to run into my friend, the Panamanian First Lady and UNAIDS Special Ambassador, Lorena Castillo. Can't wait to see her again in Panama to support her work".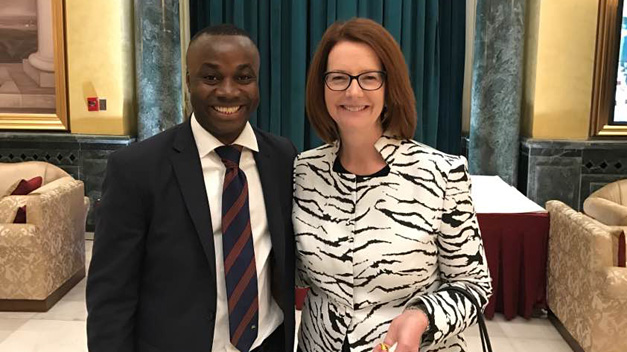 With former Australian Prime Minister, Julia Gillard at the Presidential Palace.
"Education is a right that is guaranteed by birth regardless of where we were born.
And as an activist, I, and the rest of the world, owe it to my generation and the next generation to provide quality education to all".
Honors & Awards
National Role Model, October 2014; Global Dignity- National Role Model for my continuous fight for equality, educational access and opportunity for every child regardless of their nationality.
Children's Dream Award, April 2013. Children Uniting Nations.  A recipient for Human Rights Advocacy focusing on children's rights to education.
Essex County Freeholders Award for leadership in New Jersey, April 2010.
George Foster Peabody Award Winner, May 2007, for a documentary about my life "We Don't Want No War".