Echoes project 2020 – Videoconference with Mr Don White
Friday, March 6, 2020:  "Good morning everyone. My name is Maya and I am a grade 11 student here at RS McLaughlin in Oshawa, Ontario. It is my pleasure to serve as your host for this remarkable event that will be taking place today. It is an honour to welcome Mr Donald White to our school and this amazing video conference."
With these welcoming words, we started a very special event. A highlight in the Echoes 2020 project, where students from 26 schools in Canada and 26 schools in The Netherlands work and learn together.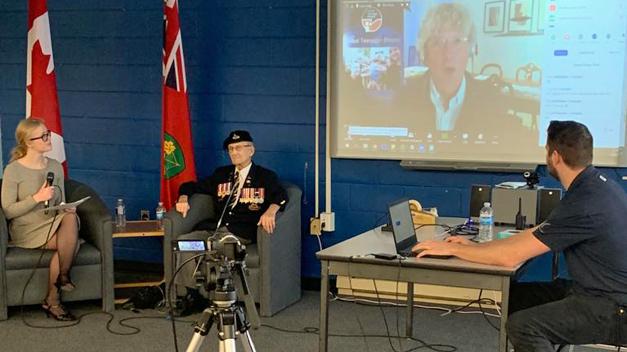 The story of Mr. Donald White
At the age of sixteen, Donald White enlisted in the Ontario Regiment militia as a part-time soldier in the summer of 1941. Two years later he enlisted in the army as a full time soldier. In January 1944 he was sent to England and then left for Italy where he joined the Royal Canadian Dragoons. Mr White was a trooper who was trained to serve in a reconnaissance squadron. In March of 1945, he travelled by Landing Craft Tank (LCT) from Leghorn, Italy to Marseille, France. He later drove up through France to Belgium. While in Belgium, he helped to refit equipment and vehicles in order to be ready for the push through the Netherlands.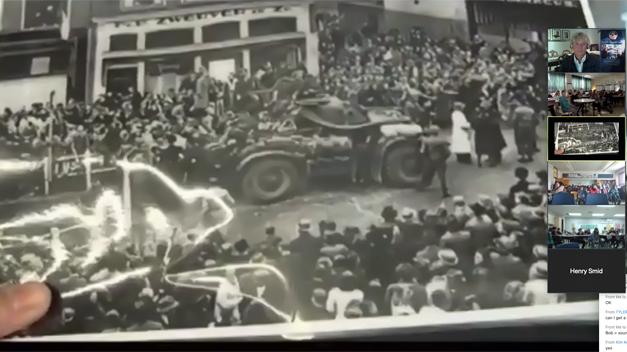 As part of the Canadian contingent of soldiers, Mr White travelled through the Netherlands to the northern province of Friesland. Once the North was liberated, orders were given to head to the port of Wilhelmshaven in Germany where he was when the war was declared over. He stayed to help with the repatriation of the Netherlands and left in January 1946 to return home.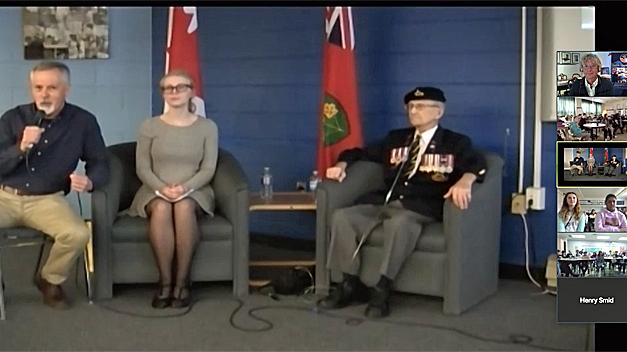 Questions from students
Question from Fisher Park Summit Alternative – Ottawa, Ontario
Students from Taylor Creek Public School in Scarborough, Ontario.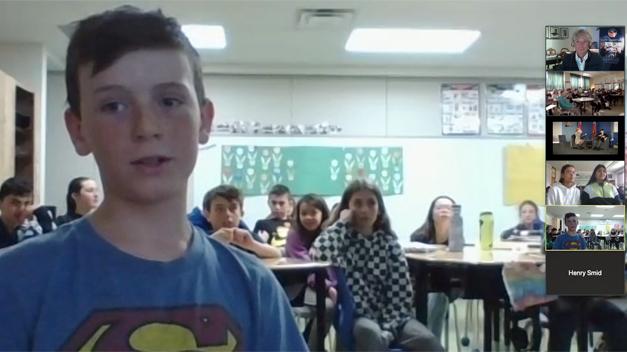 A question from Jack, from Broadview Public School in Ottawa and Kimberly Kennedy's grade six class.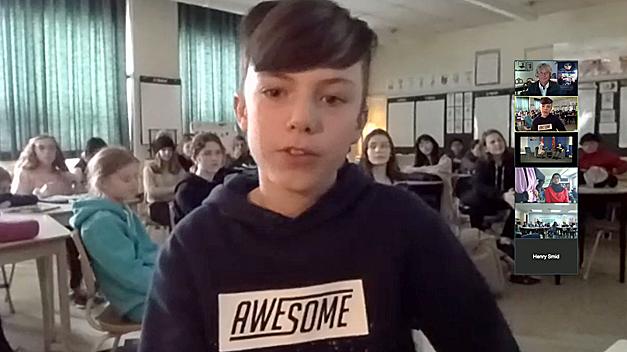 One more question from Fisher Park Summit Alternative – Ottawa, Ontario
After 45 minutes our presenter Maya, who did an excellent job, thanked Mr White with a gift from the hosting school, RS McLaughlin at Oshawa.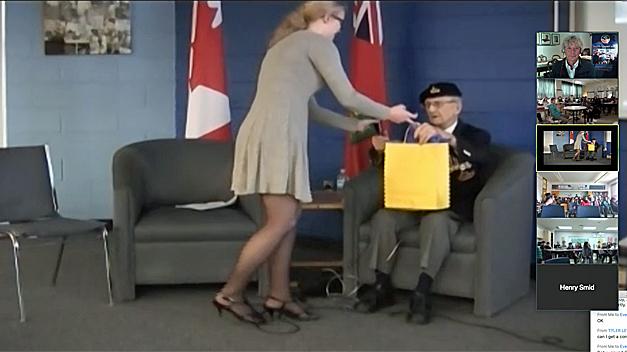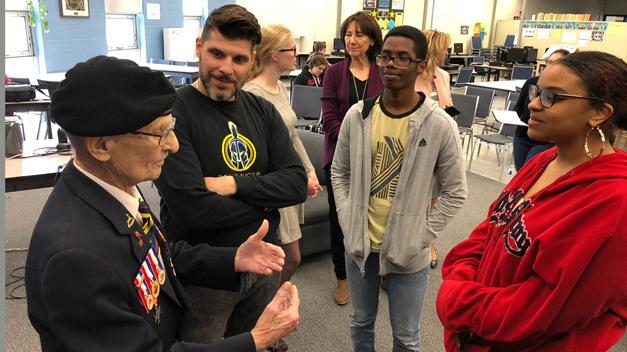 A BIG thank you!
On behalf of the Echoes 2020 Dutch-Canadian project, we would like to express our sincere thanks and appreciation for the time and effort made by Principal Mrs Bobbie Brown and her R. S. McLaughlin team, to make this video conference with WWII veteran Don White such a remarkable success. The students and staff who attended this session both in-person and online witnessed a truly authentic learning experience as Mr White answered questions about his experience as a soldier in WWII and specifically the liberation of Holland in 1945.  Mr White's firsthand account of his experiences during the liberation of Holland was a treasured moment for all of us.
The technical expertise of Mr Tyler Lewis provided a smooth and enjoyable video conference experience for our online guests from Ottawa, Toronto, and the Netherlands.
Student Maya did an exceptional job of supporting Mr White as he fielded the questions from students online and those in attendance in the library.
And last but not least we, as Global Teenager Project thank Echoes 2020 Ambassador Mr Jim Tayler, who travelled from Ottawa to Oshawa to organise this unique video conference.