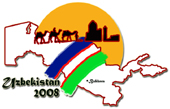 Report on the 15th iEARN Conference 2008, Bukhara, Uzbekistan.
"A conference that never happened"
This is a personal report from Bob Hofman to share his experiences on the 2008 iEARN conference in Bukhara, Uzbekistan. The first iEARN conference that was cancelled 3 days before the scheduled opening.
On Tuesday morning July 8th I left to Schiphol by train from Dieren at 9am.The days before were dedicated to create a Wiki in preparation of the July 11-12 Assembly 2008 meeting.My trip was planned via Sheremetyevo airport in Moscow to Tashkent in Uzbekistan. The flight left on time and I arrived according to schedule in Moscow at 18:40 pm. The flight to Tashkent was scheduled for departing at 22:25 pm; I was happy to meet Anna, Toni and Maria from iEARN Pangea, while waiting at the gate. Hugs and happy to see you again were shared.Luckily we managed to get some sleep before arriving around 3:30 am on Wednesday July 9th in Tashkent.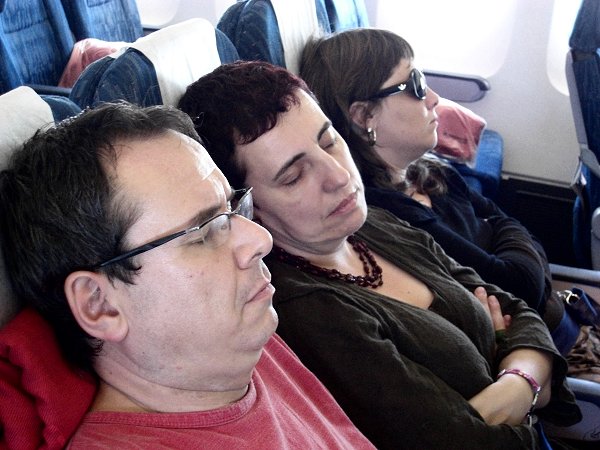 Wednesday July 9th 2008Making it through passport control in Tashkent appeals on once patience; it took about 60 minutes to get through. Next step was to fill in a two custom declaration forms. All valuable items like camera, laptop etc. had to listed, as well as the amount of money in every different currency. Around 05:15 we passed the customs and 200 the iEARN Pangea buttons in Maria's suitcase look very much like drugs, please open the suit case.Once out of the airport (06:00 am) we were welcomed by the Avantour travel agent we gave us our tickets for the in Country flight to Bukhara. We took of at 8 am and arrived at 09:00 am in Bukhara. The heat felt like a warm blanket… walking down the stairs of the airplane we immediately knew that it would become a 'HOT' conference.

We were awaited by Denis, who took us to the Semurg hotel in Bukhara.. 26 hours after leaving home :-)Some Adobe Youth Voices Workshop participants were already in the hotel and during the day more and more Assembly members arrived. Lev and Tolik, two of the conference organizers showed us the way to a nice restaurant for Lunch; "only ten minutes walk".

A very cold local Bukhara draft beer compensated the heat in the restaurant; around noon the temperature raises till 40+ C.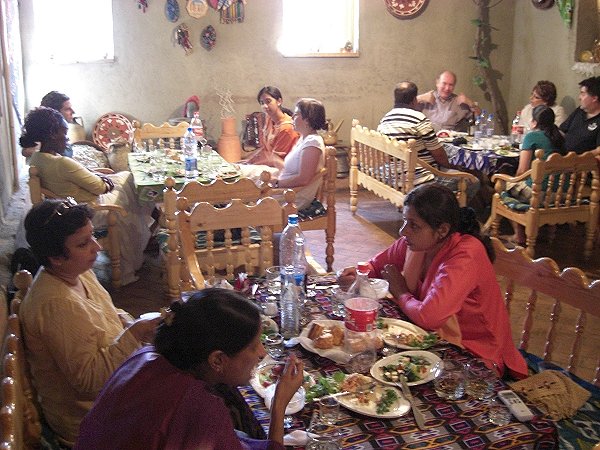 At 19:00 pm we took taxis to the old center of Bukhara. Two volunteers toured us around and shared a lot of information; Bukhara is an old city on the 'Silk route'.
We ended the evening at an open air restaurant and enjoyed traditional Uzbek food.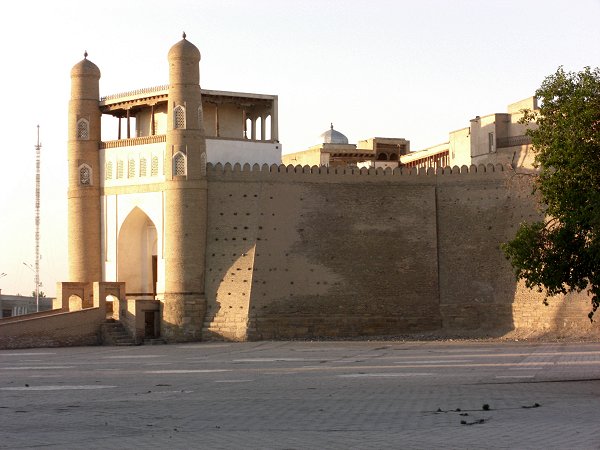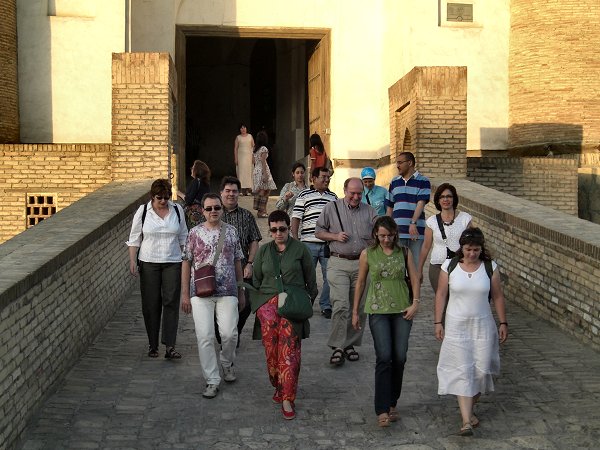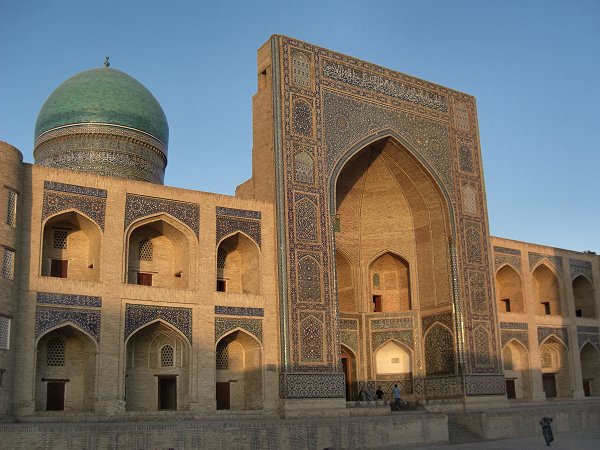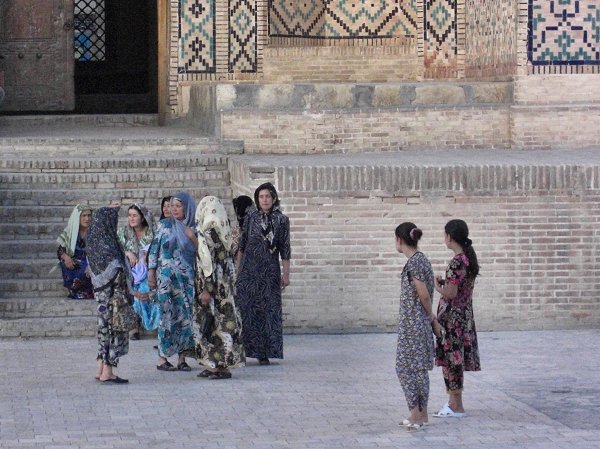 Once back in hotel Semurg I decided to sleep at 23:00 pm, exited to be among so many iEARN friends and also tired after a long travel from Holland.
What would happen in the following night changed the week ahead drastically.
Thursday July 10th 2008Around 03:00 am I heard noises far away; as I had my ear plugs in, it wasn't really clear what happened.Maybe an iEARN party in one of the rooms? I fell asleep immediately but felt several times that my bed was trembling and the saw the curtains move. I was simply too tired to fully wake up.The next morning, when I entered the breakfast room, some participants said: "did you sleep well"? At first I didn't understand, yet soon it became clear that all hotels guests had been called out of their rooms and were outside of the hotel from 03:00 – 05:00 am. A series of major explosions took place in a nearby (10 km/s) military base close to a city named Kagal. Lev and Tolik faces' look worried and we decided to have a first short meeting. They still didn't understood how I could have slept through… as two other participants did too.

Every minute cell phones rang and all kinds of messages seemed to give quite opposite information. We received messages from students that were in home stays for the Catalyst project, which had to leave their homes, while windows broke. People fled into the fields and saw how gigantic fireworks illuminated the sky orange.

Not still having clear the impact of what happened, we were joking that the 'iEARN 20th celebrations fireworks' were a bit early.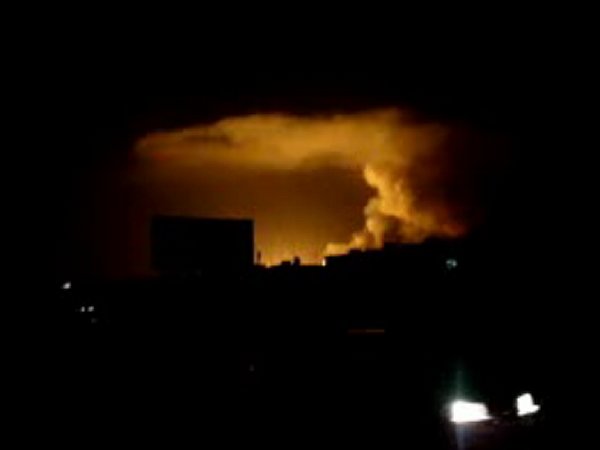 Source: YouTubeBy 11:00 am Tolik received information that the military bases was a 'sleeping base left of from the Russian-Afghanistan war'. Ed called with the US embassy and they told that they were aware of the accident, but could not yet give updated information.Then information from insiders told that an even lager explosion was to be expected before 07:00 pm and it might include 'chemicals'. Not clear was if there were chemical arms or that a nearby chemical storage might blow up. Soon after new message told that now Russian soldiers were flown in to help fighting the fire.It was now clear that we were facing a major problem that might impact the flow of the conference. Bob and Ed decided to sit down and draft a message to the wider iEARN community about the situation and that we might have to decide to cancel the conference. But based upon what information could we make such a decision. Formally there was no other news then: "3 people were killed and some dozens injured". We decided to wait till 13:00 pm as we were told that a meeting at the US Embassy would bring clearer news. While writing the last line of the draft message to iEARN community, Tolik was told that the conference location was no longer available as it was used to give shelter to thousand of people who were evacuated. An eyewitness reported that at least 3000 were killed and 20.000 people were homeless. The railway station was leveled and the injured were transported to other nearby hospitals, as the hospital in Kagal was heavily damaged.
At 02:00 pm we received 3 messages. The first was a confirmation of the possibility of a major explosion before 07:00 pm and that the wind now still was of wards of the hotel. The second message was that a meeting at the major's office was taking place and we were advised to leave the hotel within one hour. All official institutions like banks, public buildings were to be closed. The third message came via a phone call from Ed to the US Embassy; they now took the incident very seriously and also they advised to evacuate and leave the hotel as soon as possible.
Several assembly members and Lev and Tolik decided on the spot that safety came first. We decided to cancel the conference, made a plan to leave at 03:00 pm. We had to send the message of cancellation as soon as possible and advised those traveling to return home and those still at home not to travel.
On one hand it was an easy decision.. safety first. On the other hand we knew that cancellation would have very serious consequences. Financially for the conference organisors, and of course also for 200+ participants with (nonrefundable?) tickets.
And what if, after two days, it would seemed all to have been rumors? And we might  be accused of deciding wrong?
In the midst of people packing suitcases, I thought what would I advise one of my kids if they were participating? Clear answer: stay home! No doubt about that, so had to be the advise to all.
At 14:10 pm the wireless internet was down.. we could not send the cancellation/evacuation message from my or Ed's laptop anymore.
They only way was to get the draft message on a USB and send it via the only, very slow hotel PC. Which Anatoly did.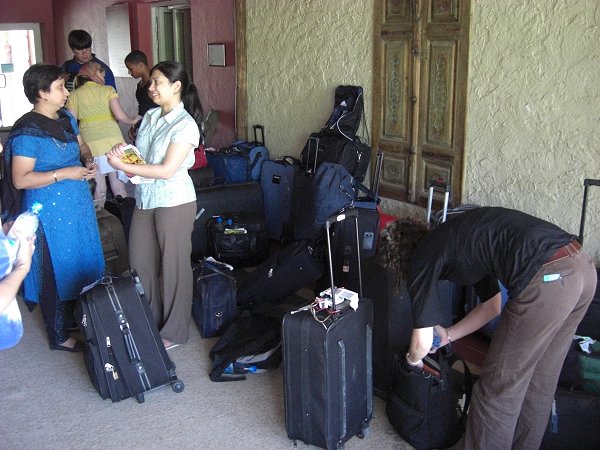 Next question was: "How do we get 40 people out of here?". With admiration I noticed how very quickly Lev and Tolik organized a bus for all, including their own families, to leave as soon as possible. All taxis were gone already and we saw military trucks and ambulances in the streets. While waiting for the bus to arrive more and more suitcase piled up in front of the hotel. Amazing to see how strong the iEARN community was.. all understanding how this must be for the organisors or those in the midst of there traveling. SMS from the Israel team at the airport, most had already checked in. Mail from Alenka at Moscow airport; is it true.. no conference, if so what to do? Message that the team from Qatar was denied access and were send back.
So many messages and information in so little time. And 30 minutes left to pack.
Next question was where to go? Also this was handled very well by the organisors; we were to leave to Samarkand.
Several participants traveling by train form Tashkent to Bukhara were told at the in between station in the city of Samarkand that the train would not continue. Gerard and the Australian team were in the "Grand Hotel" in Samarkand. Anatoly arranged room for all those leaving Bukhara in the same hotel.
At 15:00 pm the bus arrived and we started loading our suitcases and left within 30 minutes. While doing so the two volunteer female students which showed us around with so much passion during the previous evening in Bukhara, stood aside. Just some hugs and ample words, while tears appeared. At the first crossing two old Uzbek ladies sat at the sidewalk with a huge pile of melons and smiled to us. Did they know about it all? How can we run like hell and leave so many civilians behind? It was 45C in the bus, Sun was frying us and we had 5 hours of traveling ahead…. I felt so empty, yet connected to so many. Like we had said earlier.. this is no longer an Uzbek problem; it's the problem of all in iEARN.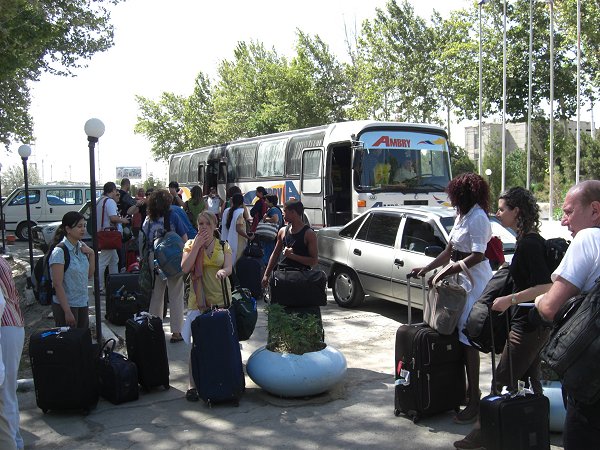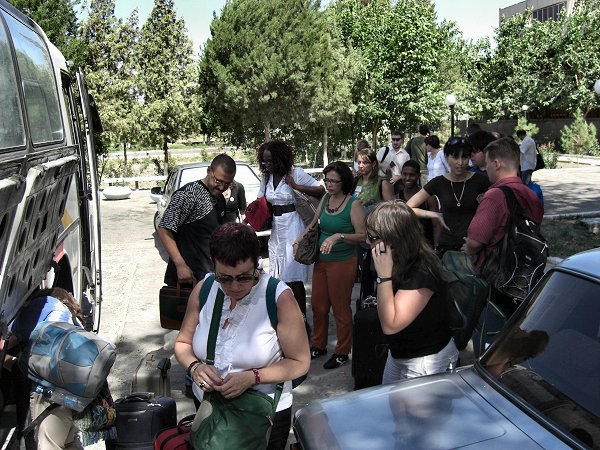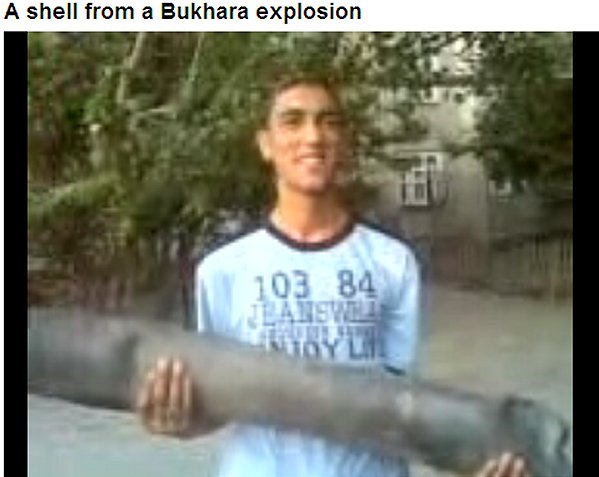 Click picture for YouTube clip
Friday July 11th.
Again a hotel with a long row of suitcases in front of the entrance. During breakfast we learned that during the night again explosions were heard in Bukhara. The group from Taiwan had arrived at midnight and some were still sleeping. Anatoly decided to drive back to Bukhara and see if he could arrange financial matters with the hotels, so once in Tashkent we could site with Assembly and decide what to do next.
We left at 10:00 am, to arrive in Tashkent at 14:30 at the Poytaht hotel.
More people present and we tried to fit as many as possible in the rooms.
Unfortunately there were 3 rooms short, and Ed, Justin and Bob had to move again to the Uzbekistan hotel. We walked with our luggage, through the over heated streets of Tashkent, crossed a beautiful park with fountains, to arrive 15 minutes later in the lobby of the Uzbekistan hotel. Obviously a hotel from the post Soviet period… 3 ladies behind a counter non verbally communicated to us: you might be very grateful that we are even thinking about helping you".
At 16:00 pm the assembly members present gathered and we sat till 17:30 and discussed what next steps to take. We decided to at least have a one day Assembly meeting and Anatoly and Lev were helpful in finding a room in the hotel.
At 19:00 pm a big group went out for dinner and we managed to find a cozy place.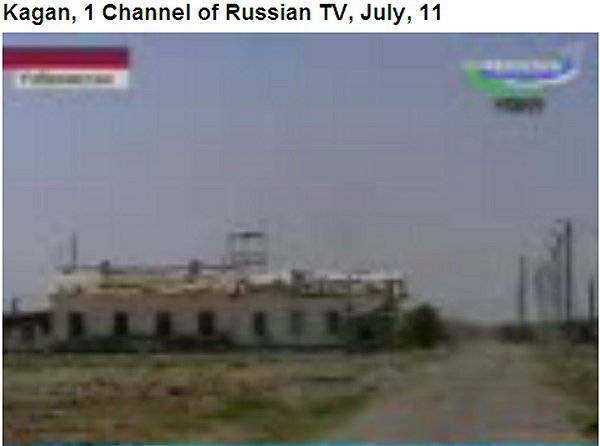 Click picture for YouTube clipSaturday July 12thInterview with Gerard Lommerse on Radio one  (skip till 51:45 mins)At 09:00 am the Assembly members gathered and we started with listing all items to be discussed. There was no ICT available so we had to improvise. At the end of the morning and afternoon the note takes took the minutes and posted them in the Assembly forum. During the morning Anatoly, who had flown back from Bukhara during the evening before, briefed us on the situation in Bukhara. Hotels and banks were still closed. Officially still only 3 people were reported dead, while we could see via YouTube how kids in Kagal picked up complete granate shells on the streets.

The Assembly day had a very good flow and we decided in the afternoon to continue on Sunday for at least the morning part.

The picture shows how Maria form the iEARN International office receives the first annual contribution from Anita Townsend, iEARN Canada :-).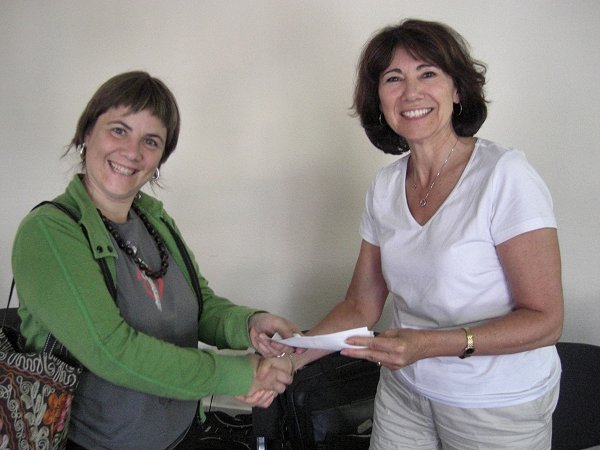 Sunday July 13th.
Yeahh.. it's my birthday 🙂
As in many previous years, the annual iEARN conference created an international location to celebrate my birthday. Traditionally in my suitcase were cards and small gifts from Dini and the kids. Nice to feel connected to home and receive really good sweets called 'dropjes', (black licorice).
The morning flew while we were so active in the Assembly meeting; we ended accordingly as planned at 13:00 pm. Eleven motions were placed, including votes for the election of the new Executive Council.
Right after lunch Virginia, Ed and Bob sat down and went through all minutes to 'filter' all motions into one document that we send, including the voting procedure, to the Assembly list.
A nice swim afterwards cooled me down. Doris and Gerard organized a birthday dinner at the 'Salvador Dali' restaurant. Over 30 participants joined at 19:00 pm and there were even two birthday cakes with a candle; one at the beginning given by Lev and one with coconut after main course, that I cut in 30 pieces to be shared with all.
Bob (up) & Bob (down) on birthday party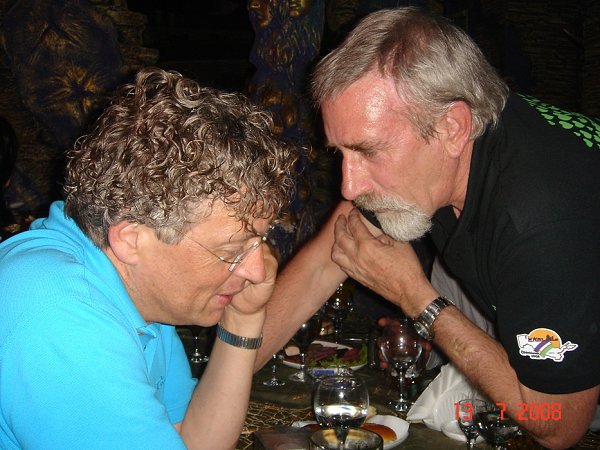 Global congratulations 🙂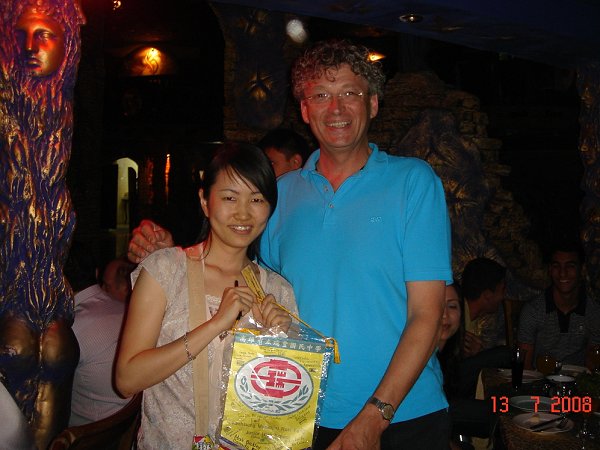 Also I received some nice gifts (a treasure box from Ruty, a traditional Uzbek hat from Pangea team, a booklet about Uzbekistan from Gerard, little statue from East-Jerusalem team and a wooden pot stand from Bob & Virginia) made it into a day to remember.
The picture below was taken at the end of the Assembly meeting.
Just below one more is a capture of Charles Brewster (Wales, UK) who donated five shares of his company "Ourworldinternet" to iEARN International. The shares will be safely stored in the iEARN international office, well guarded by the Pangea team. (Charles wrote about his adventure here)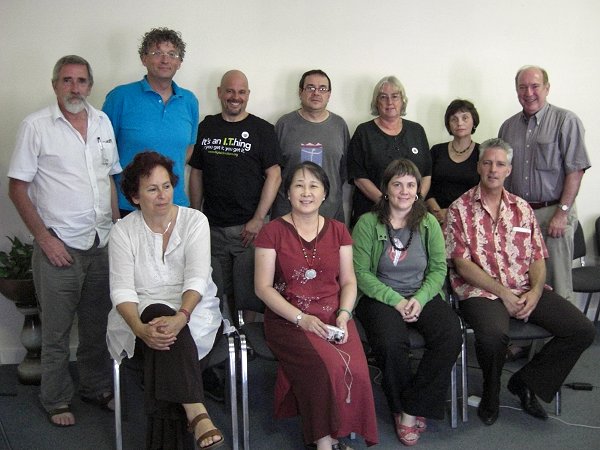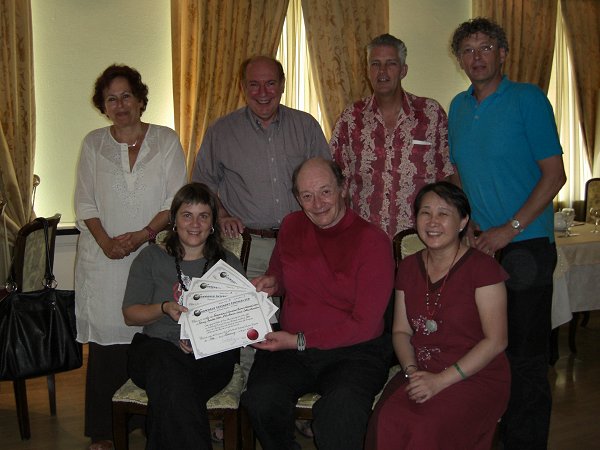 And still we were trying to find the place of the location of the explosion on Google maps.A big smile appeared when a text in Russian language covered the maps.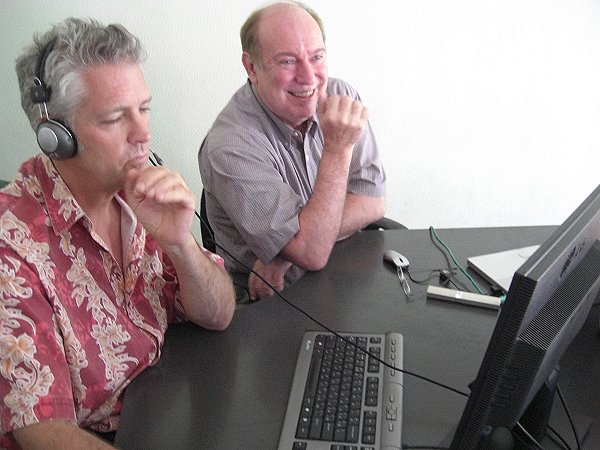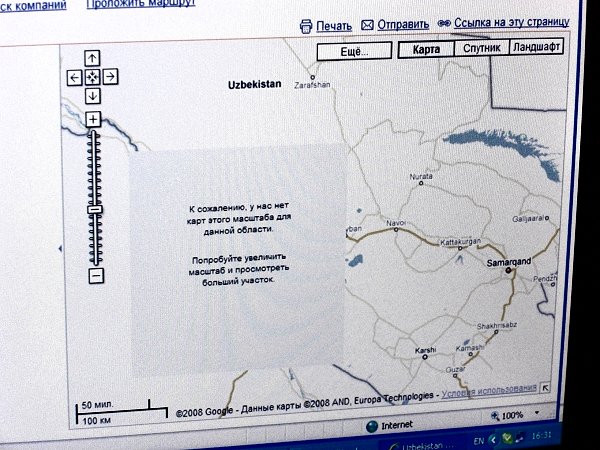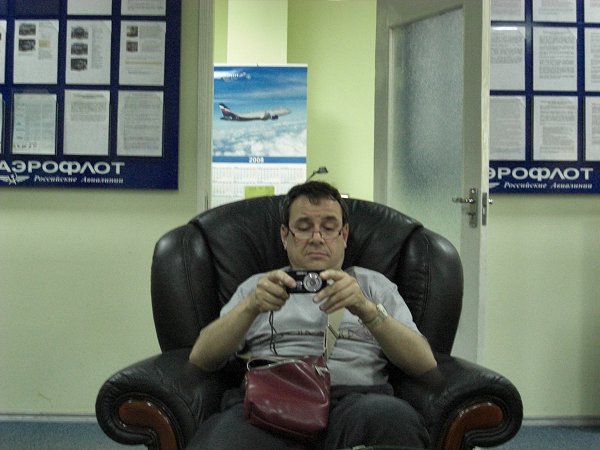 Monday July 14th Together with Anna, Toni and Maria we decided to visit the Aeroflot office to see if it was possible to change the date of the return flight home. With a taxi de drove from the Poytaht hotel and ended up at the Uzbekistan air offices. Luckily the Aeroflot office was only to blacks away. I was able to get hold of a ticket with departure on Tuesday July 15th. This required an additional payment of 200 euros. Leaving one or two days later would cost around 400 euros extra. By the time my e-ticket was printed, the connection of the computers broke and we had to wait a total of 2,5 hours before all tickets were printed.I enjoyed the evening dinner with Anita, Mali and Jim in a Czech restaurant about 15 minutes per taxi away from the hotel. Amazed while entering to see a sign with a 'clothing and face policy'. At first we couldn't enter due to one of us having shorts, yet this was solved very quickly. We were wondering what the 'face policy' would mean (pictures to be added later).

Once back we enjoyed dome drinks at the pool and I left the hotel by taxi at 01:30 am.

At the airport I waited in-line for over an hour trying to check in; again some kind of system problem. When I showed my air miles card, I was send to a different VIP office. The Aeroflot officer explained that there things would go smoother, Normally it would, wasn't it for the fact that the boarding pass printer didn't accept the e-ticket printed the day before at the Aeroflot office seemed to be 'invalid'.

I was amazed by the friendly help and was told to have a little patience. It wasn't till 03:30 am, when all was solved. Five minutes before boarding the same Aeroflot officer came and changed my seat to Business Class, with an apology for the inconvenience. We finally took of at 05:30 am… some 2 more hours waiting at Sheremetyevo airport, followed by a smooth flight to Amsterdam and home in Dieren at 15:00 pm.

The past two days passed in a strange way. Like I still could not fully understand that there will be no conference this year.
July 19th 2008It's a quiet Saturday morning, just spoke with Anatoly on skype. He told that again the city of Kagal en parts Bukhara are again being evacuated. They still hear explosion during the night.So sad to hear that life of Uzbek people is still being effected; and happy at the same time we cancelled.We're collecting questions of participants and Anatoly explained that they are working on a partial refunding.
Top